31st March 2023
Murder Mystery 2 review: Jennifer Aniston and Adam Sandler deliver utter garbage
A murder mystery comedy of the lowest possible denominator.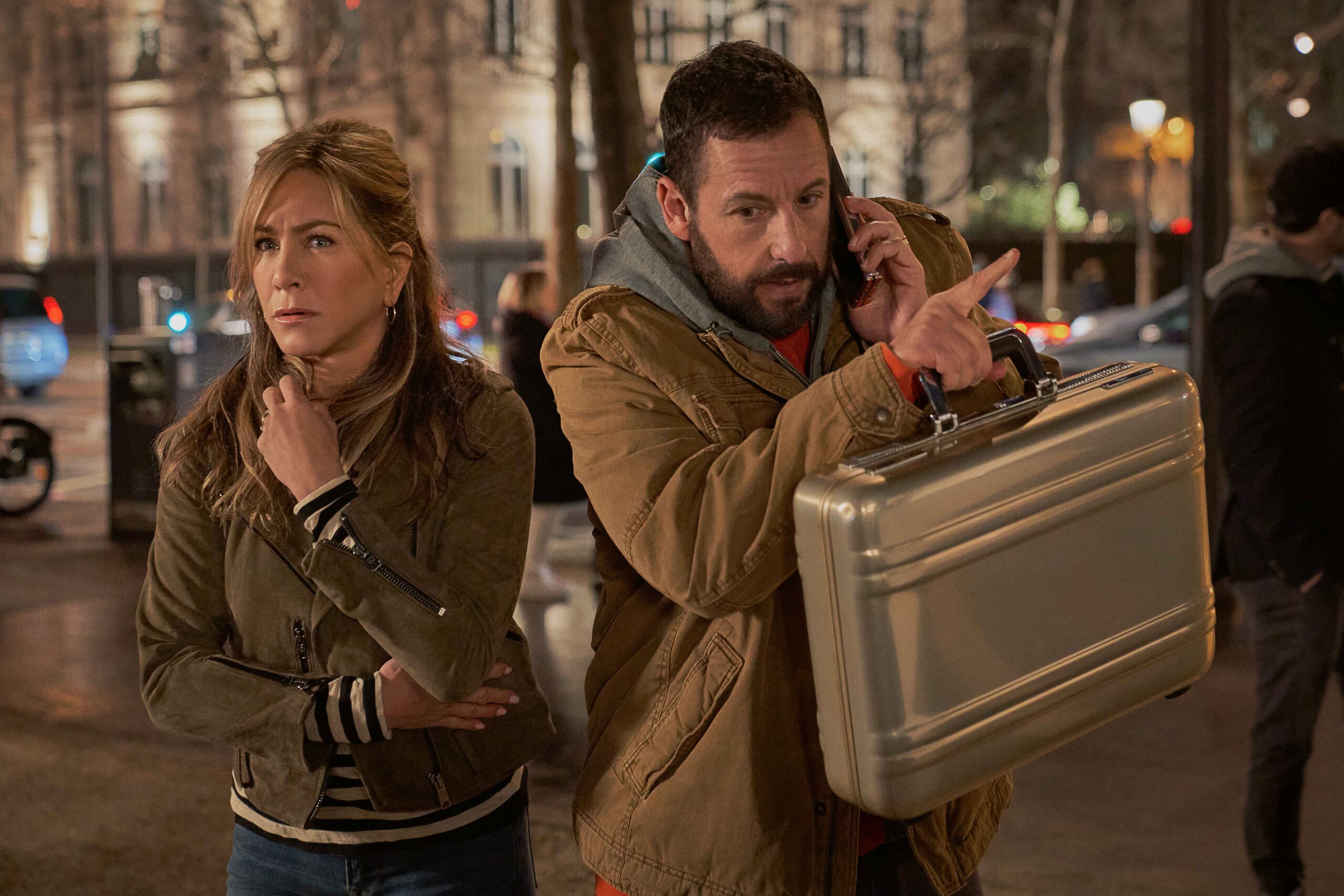 Given its on-the-nose name and its comedic leanings—Adam Sandler and Jennifer Aniston are back in the lead—the Murder Mystery film series is naturally supposed to be a self-aware celebration of the whodunnit genre. It's meant to mock tropes and laugh at clichés. It's about solving a murder while having a ball. Like having your cake and eating it too. But unfortunately, just like with the first one, the sequel is really none of those things. And it's not for a lack of trying, mind you. Murder Mystery 2—directed by Jeremy Garelick (The Wedding Ringer)—is just pure cringe, somehow always finding itself on the wrong side of the tracks.
None of its jokes ever land. It doesn't help that all of them seem to have been written by a 10-year-old. (In actuality, they come from 47-year-old James Vanderbilt, who also wrote the 2019 original.) Murder Mystery 2 is a litany of sad and tired jokes, from the lead characters having their last names mispronounced ("Shitz" instead of "Spitz") to a French character being overly intimate because, you know, French. Writers, you can do better. To make matters worse, Murder Mystery 2 also relies on sexual innuendo and inappropriate male behaviour to fuel its comedy. How is this an acceptable choice in the year 2023? I can't even.
More Knives Out, less Murder Mystery, please
The 80-minute crackpot adventure—set across Paris and a tropical island (filmed in Hawaii)—gets stupider by the minute and, ultimately, descends into farce. Also, there's no real murder to solve in Murder Mystery 2? That said, it feels like the least of the problems given the inane nature of the film.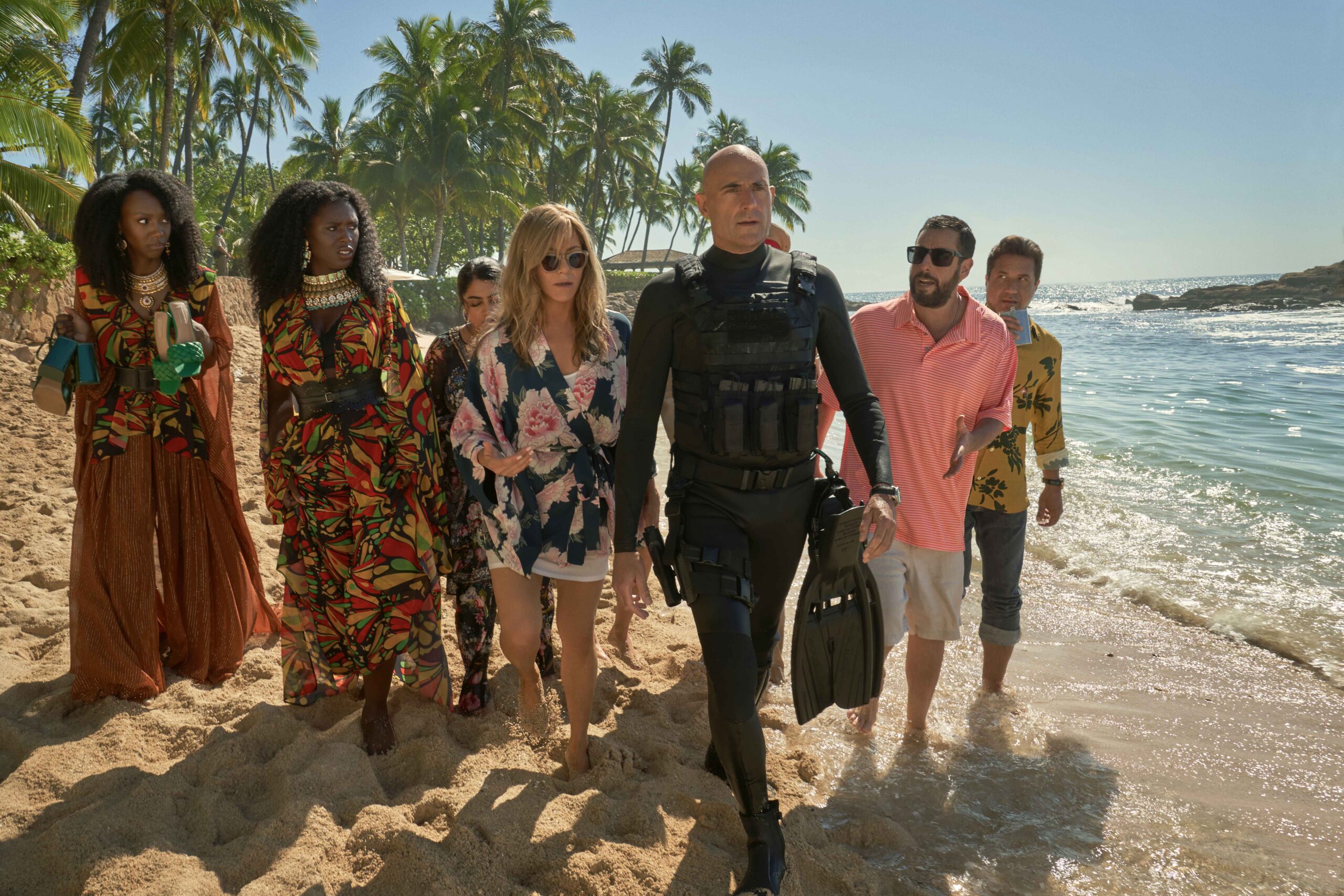 It's bonkers that the same platform that gave us Glass Onion can also be behind this. It's almost as if the quality control department has been fired. I'd rather have a million Knives Out sequels, which are better than the Murder Mystery films even in the departments Murder Mystery is supposed to excel at—and go beyond that to be so much more. If Netflix is so worried about cost-cutting, as the news claims, I have a strong candidate for you. Take all of the Sandler–Aniston money and give it to Rian Johnson. Heck, give it back to subscribers if this is what you're going to do with it.
Murder Mystery 2: the plot
Following the events of the first film, Nick and Audrey Spitz (Sandler and Aniston) have fully embraced the business of private investigation. But it's not going so well—for one, they have little training in what they do—so when they are invited to a friend's wedding, they feel they could use the break. That takes them to a private island, where the returning self-styled heavy-British-accented Maharajah (Adeel Akhtar)—his full name is revealed as Vikram "Vik" Govindan—is marrying French shopgirl Claudette Joubert (Mélanie Laurent, from Inglourious Basterds).
That gives Murder Mystery 2 an excuse to put a score of white people—including Aniston and Sandler—in a variety of Indian dresses, stage cringey dances with Bollywood songs from yesteryear, and have the groom enter the sangeet venue on an elephant. Because of course. On top of that, the film defines sangeet as a rehearsal dinner, which is just—I'm at a loss for words. White people who do not know Indian culture won't bat an eye for any of this, which basically tells you all you need to know about who this movie is made (by and) for.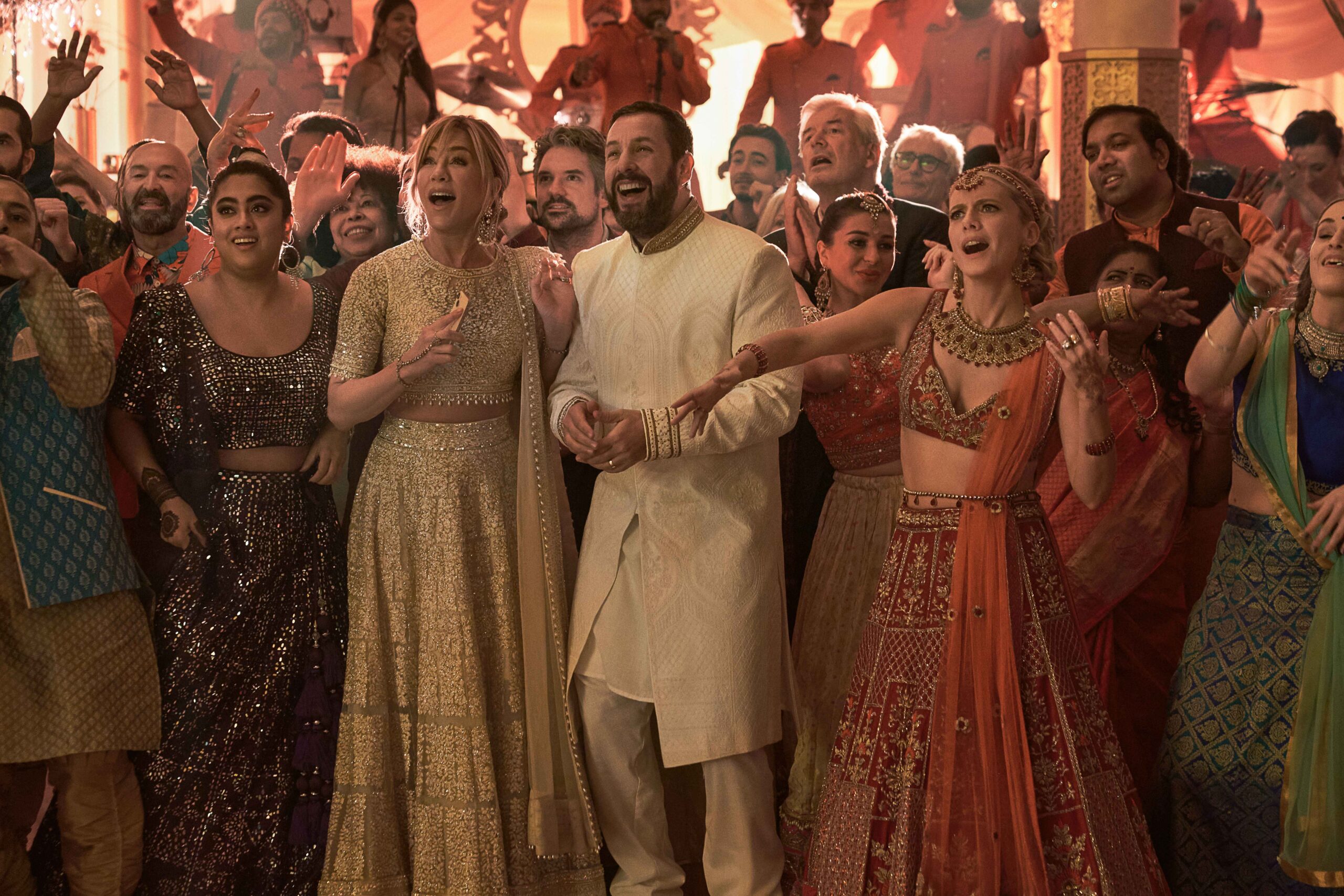 What even is this movie?!
Soon—because the title of the movie demands it—someone ends up dead and someone else is kidnapped. The Spitzes attempt to lead the "investigation", turning the primary wedding guests into suspects. That includes the bride Claudette, Vikram's sister Saira Govindan (Kuhoo Verma, from Plan B), Vikram's ex-fiancée Countess Sekou (Jodie Turner-Smith, from Queen & Slim), Vikram's famous-retired-footballer friend Francisco Perez (Enrique Arce, from Money Heist), and the returning Colonel Ulenga (John Kani) who's now Vikram's bodyguard.
While it's reminiscent of the setup of Glass Onion—a murder mystery on the host's special day on a private island—it doesn't proceed like that at all. Nick and Audrey are usurped shortly after by a new professional face in former MI6 hostage negotiator Conner Miller (Mark Strong, from Shazam!). For reasons I cannot understand even after watching Murder Mystery 2, the entire gang is then packed off from the island to Paris following the first act. It makes no sense for most of this new extended cast to be involved—and the film expects us to fall for the flimsiest of excuses to keep its troupe intact.
That nonsensical approach is down to plot demands. Murder Mystery 2 throws in a series of B-plots after arriving in the French capital—putting a convoluted spin on the "storytelling". It harps on the same old jokes about how Nick can't shoot a thing despite having trained as a police officer. While Audrey, who is serious about getting a private detective licence, is learning how to be one while on a mission. That means saying things out loud, in what's a naked attempt to communicate to the audience. This is a murder mystery comedy of the lowest possible denominator.
Have some shame, you guys
Jennifer Aniston and Adam Sandler have been paid millions—most likely, tens of millions—to make Murder Mystery 2. Netflix is hoping that it can top (or repeat) the feat achieved by the original, which had the biggest opening weekend of any Netflix film when it came out roughly four years ago. After all, that is the reason for its existence: to feed the Netflix content machine that pumps out new originals on a weekly basis and gives its subscribers at least one reason to stick around. And given just how bad Murder Mystery 2 is—Aniston and Sandler ought to drown themselves in the stacks of money they've made, out of shame—I bet it'll be forgotten by the following week.
Murder Mystery 2 released on March 31 on Netflix worldwide.