18th February 2023
Ant-Man and the Wasp: Quantumania review: unreal
Jonathan Majors is great but his Kang—the Marvel Cinematic Universe's next big bad—suffers in a film that looks fake and struggles to sketch an arc for its growing ensemble.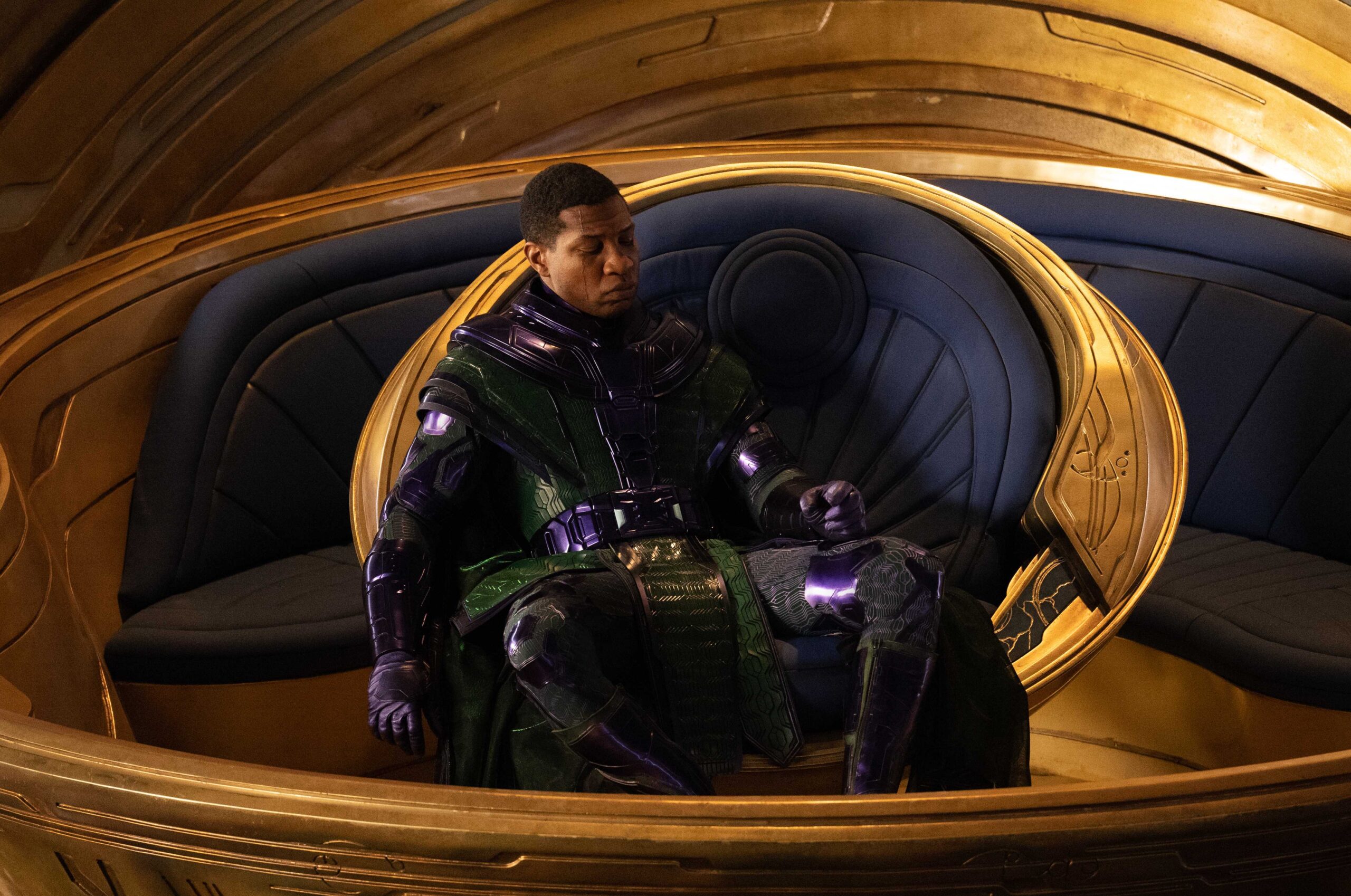 Ant-Man and the Wasp: Quantumania—now playing in cinemas worldwide—is totally unlike its two small-scale predecessors. In theory, that's great. It shows that Marvel and the filmmakers—including returning director Peyton Reed and new writer Jeff Loveness (Rick and Morty)—are willing to switch it up. As the unwieldy title suggests, they are introducing us to a whole new world, one we visited briefly last time around in Ant-Man and the Wasp. But the trouble with the Quantum Realm, or at least with its visual implementation here for the most part, is that it all feels—well—fake. (Probably more so on an IMAX screen, which is how I saw it.)
Quantumania's Quantum Realm is a disaster
There's nothing real about its environments, creatures, or anything else. The entirety of Ant-Man and the Wasp: Quantumania has been shot on a studio lot in England, with giant screens as backdrops. It's the same tech they use on The Mandalorian. Having directed a couple of episodes, Reed has experience with StageCraft—as it's known—but just as Taika Waititi went overboard with it on Thor: Love and Thunder, so does the former here on the new Ant-Man film. While the Star Wars series largely keeps itself grounded, the Quantum Realm is massively over-the-top.
Its skies are unreal. Its jungles and animal life are unrecognisable. It's impossible to locate a horizon. And unlike Earth, the Quantum Realm is seemingly lit equally from every angle. Add to that a lack of foregrounding elements and an overuse of wide bird's-eye-view shots—they are meant to evoke awe but end up disorienting you—which has a way of flattening and stretching the Marvel movie to an unappealing degree. Ant-Man and the Wasp: Quantumania is proof of why Rick and Morty should never be translated into live-action.
That naturally pulls you out of most scenes, as 90 percent or more of Ant-Man and the Wasp: Quantumania is set in the Quantum Realm. It also erodes our understanding. The first two Ant-Man films operated on our scale—so when objects shrank or grew, we could comprehend what was going on. The subsequent humour arose out of the mismatched proportions, be it a human shrunk down and navigating scenarios you couldn't otherwise or seeing everyday objects—from cars to buildings—in sizes you haven't before. In the Quantum Realm, this doesn't translate well.
But that's hardly where the new Ant-Man film's problems end.
Ant-Man and the Wasp: Quantumania plot: unexpected portal
Following the universe-altering events of Avengers: Endgame, Scott Lang / Ant-Man (Paul Rudd) has settled into a quiet and peaceful life back in San Francisco at the start of Ant-Man and the Wasp: Quantumania. He's in a stable relationship with Hope van Dyne / Wasp (Evangeline Lilly), who's busy with humanitarian work. He's become a bestselling author with a book that details his save-the-world exploits against Thanos. And having already lost out on five formative years of her life, Scott just wants to be a father to Cassie (Kathryn Newton) and keep her safe.
But Cassie isn't making it easy. She routinely gets herself in trouble with the police while trying to help the underprivileged ones impacted by the Blip. And she's also been researching the Quantum Realm—with help from Hope and Hank Pym (Michael Douglas)—driven by science and the fear of losing her father again. When Janet van Dyne (Michelle Pfeiffer) learns what Cassie has been up to, she shuts it down. But of course, it's too late. It says Quantumania in the title for a reason.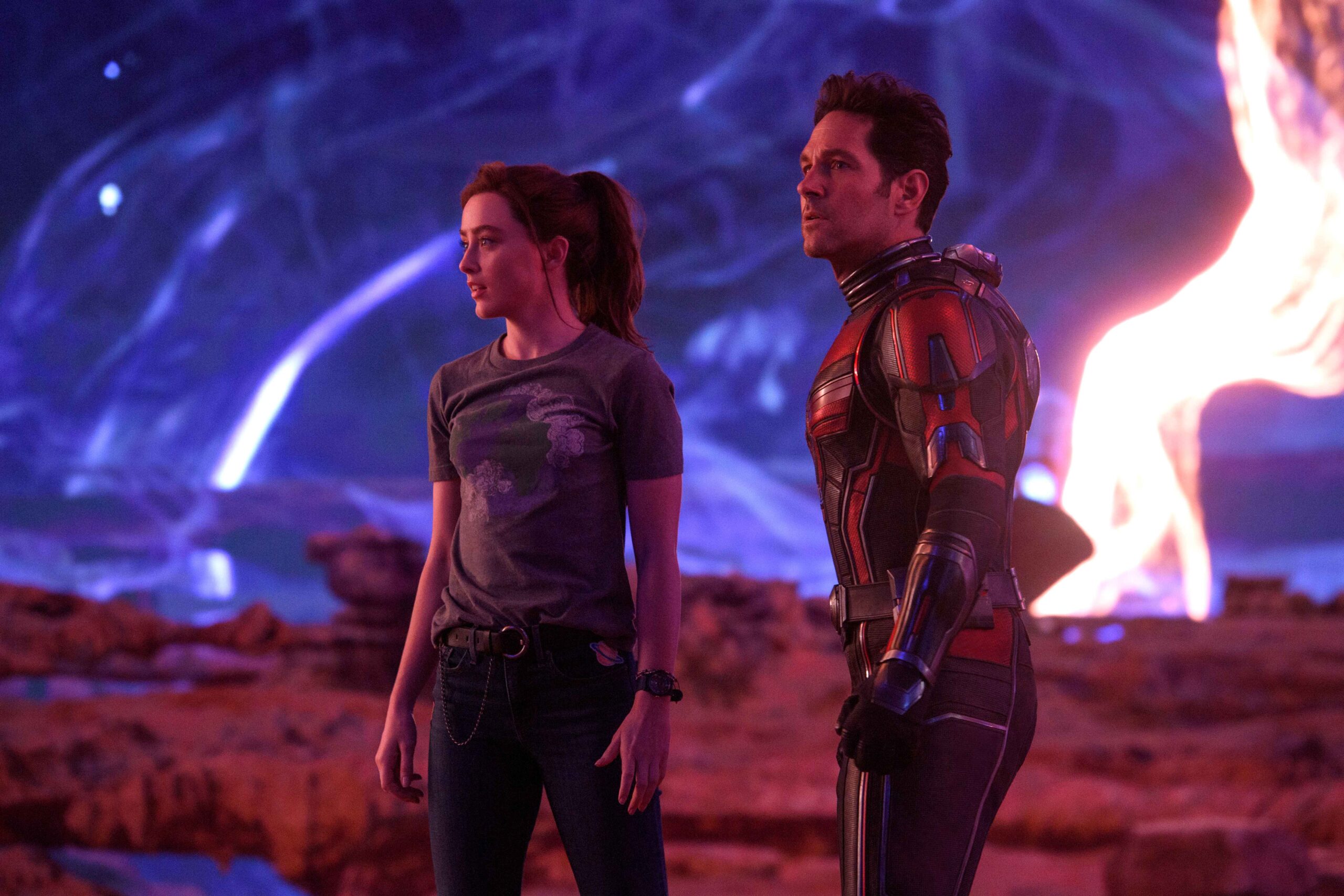 Maybe they should've consulted the one person with the most experience with the Quantum Realm before running any experiments. Though it doesn't help that Janet hasn't said a word about the 30 years she spent in the subatomic world since she got back. Due to a combination of foolhardiness and lack of communication, the quintet—Scott, Hope, Cassie, Hank, and Janet—are sucked into the Quantum Realm and split into two. Scott and Cassie run into the remnants of a civilization that's been ravaged by the one they call the Conqueror. Meanwhile, Janet is slowly forced to open up to Hope and Hank on why she's been so mum on three decades of her life.
Jonathan Majors and Michelle Pfeiffer rule Quantumania
Despite having an ensemble of five heroes, the issue with Ant-Man and the Wasp: Quantumania is that none of them really has an arc. Cassie feels guilty over dragging everyone into trouble but she's a sidekick and never a driving force. Hank just hangs around to drive a funny spaceship, and—SPOILER ALERT—get highly-advanced ants to the rescue of Scott, Hope, and Cassie in the end. No wonder Douglas wants Hank to be killed off if there's an Ant-Man 4. Lilly has more or less admitted that this movie didn't offer enough for Hope.
Spoilers ahead for Ant-Man and the Wasp: Quantumania.
Janet has the strongest motivation of any, as she's afraid of returning to the Quantum Realm, because of what she escaped. As that can of worms is slowly opened, Ant-Man and the Wasp: Quantumania turns into a better film. The Conqueror is revealed to be Kang (Jonathan Majors), a variant of Loki's He Who Remains (also Majors) who warned us about his other versions before his death. Kang is teased starting at minute 25 in Quantumania, but only properly shows up in his menacing avatar in the second hour.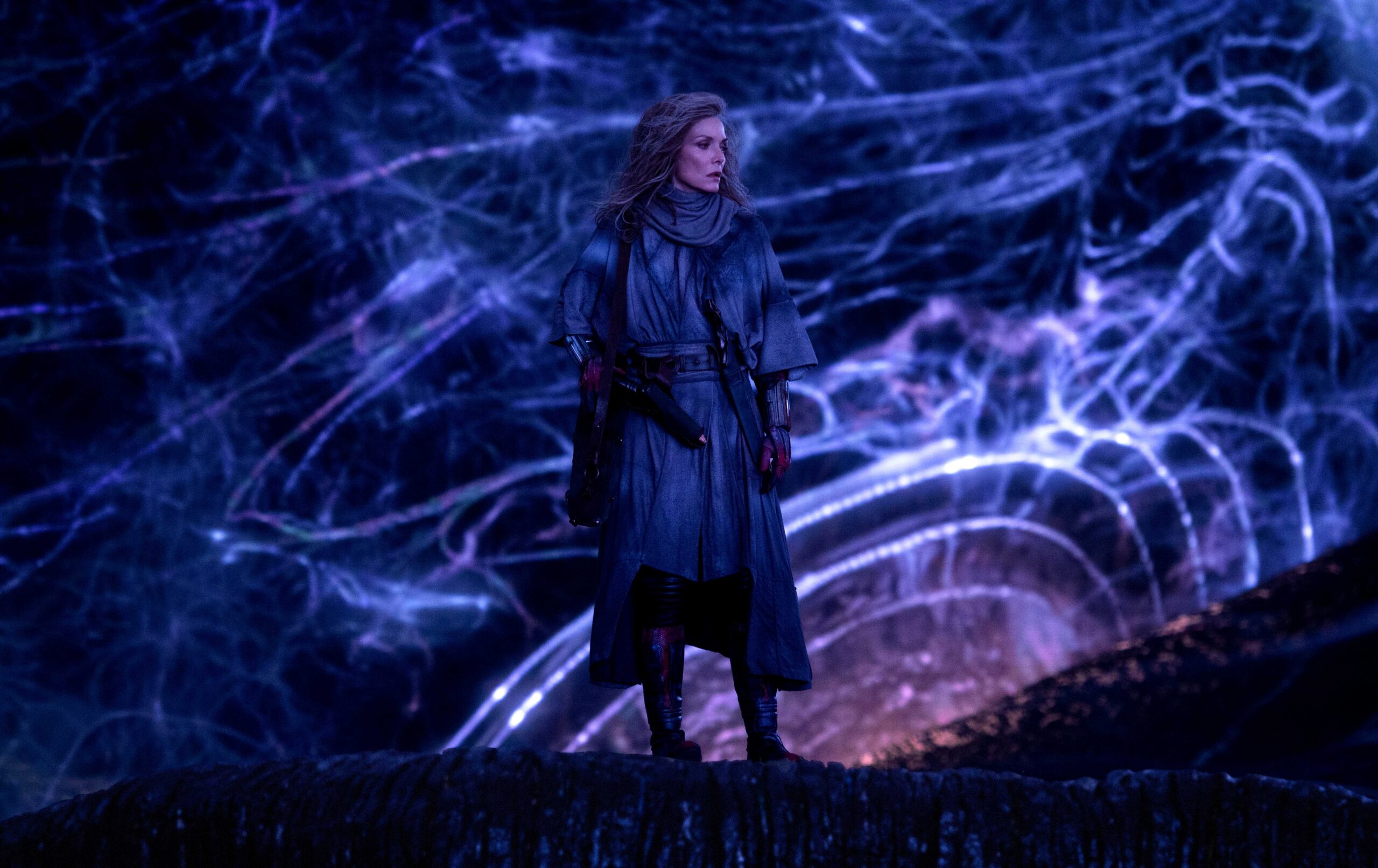 Majors is terrific as Kang—he offers a performance that's entirely different from the one in Loki—a mega-ambitious time-traveller who feels hobbled by the Quantum Realm. The best parts of Ant-Man and the Wasp: Quantumania all involve Majors and none of the VFX shenanigans that populate the new Marvel film. And because of their characters' shared history, the scenes with Kang and Janet are the highlight. The third Ant-Man film finally gives the talented Pfeiffer enough meat on the bone. That's also true for Majors, whose Kang has a purpose that everyone else is sorely lacking.
Ant-Man and the Wasp: Quantumania is undercutting the MCU's future
Thanks to the villain's introduction, stronger storytelling, a rebellion plot, and defined action pieces, the second hour of Ant-Man and the Wasp: Quantumania is greatly improved over the languid first hour. It helps that all the weird and self-serious characters are together. We've got a telepath (William Jackson Harper, from The Good Place) with a glowing head. A slime-like creature with no shortage of inappropriate questions and comments. Another with a cylinder for a head that shoots a powerful yellow beam. And of course, MODOK (Corey Stoll, previously the villain in Ant-Man), whose face is stretched in such an unsettling fashion. It just never worked for me.
Kang has a problem of his own too. To inform us of his capabilities, Ant-Man and the Wasp: Quantumania tells us that Kang has killed multiple Avengers. But since we don't see any of it, and they are variants of Avengers we don't care about, it's impossible to feel anything. Kang's "might" is also being undone by the fact that he keeps dying every time he shows up. He Who Remains is gone, the Exiled One is gone. In that sense, he's weaker than prior villains. Does Marvel not realise that it's undercutting Kang's supposed dominance by killing off his variants?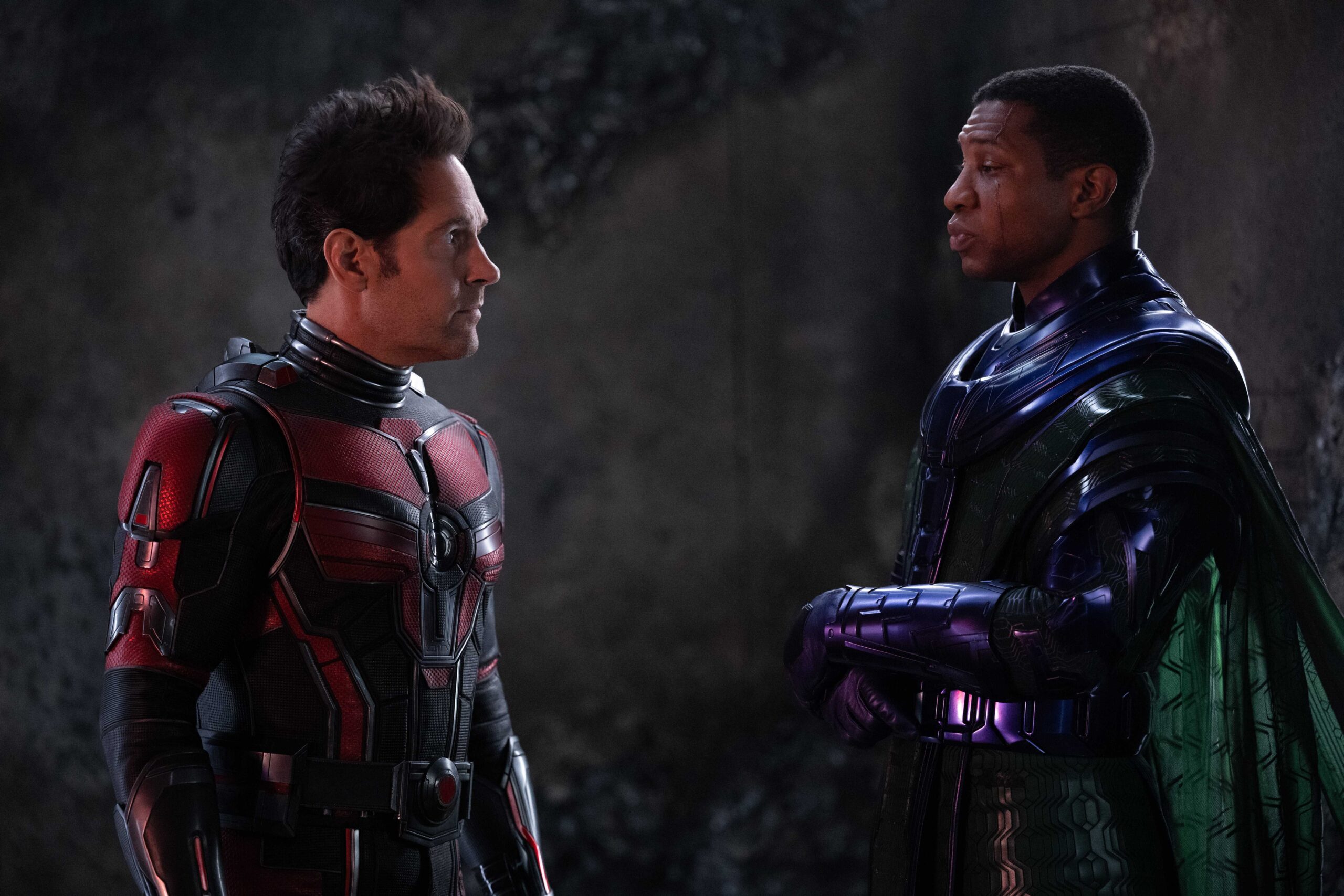 Ant-Man and the Wasp: Quantumania is, ultimately, less than the sum of its parts. It's sporadically funny. The Quantum Realm is meant to wow us over but feels like CGI puke. And it's bigger than before—I don't think it's an Avengers-level movie, as that's a heavy dilution of that term—but empty on the inside. Most of its characters aren't really going anywhere, after all.
This was supposed to be the grand entrance for the MCU's next big bad. Quantumania's mid-credits scene hints at what's coming after seven more films in Avengers: The Kang Dynasty, slated to release in May 2025. Following a series of standalone adventures since the days of Endgame, the MCU is now building to something. I just wish the path to it was better thought out.
Ant-Man and the Wasp: Quantumania released February 17 in cinemas worldwide.